Making Every Assignment A Success
As companies send highly-skilled staff on assignments to develop new African markets or oversee key projects, Executive Relocations in Africa simplifies every step of this process.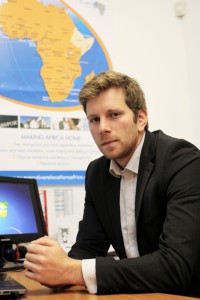 "As recently as 20 years ago corporate assignees would arrive in Africa, leaving  families at home and equipped with only – to exaggerate slightly – a backpack," says Executive Relocations in Africa's General Manager, Olivier de Blois.
"Today companies want flexibility for their staff: flexibility of time, money and comfort. We offer our corporate clients and expatriates fully-integrated turn-key solutions, providing exactly that."
As a key player in a group of mobility-focused companies with an extensive footprint in Africa – a physical presence in 45 African countries – a major strength of ERA is its high level of standardisation, guaranteed through the use of in-house relocation consultants on the ground.
Olivier reveals that ERA's portfolio of clients includes the biggest brands across sectors as diverse as Oil & Gas, Supply Chain, Retail, Finance, Insurance and Information Technology; and ERA has a proven track-record of meeting expatriates' specialised requirements across these industries.
"We are practically an extension of a company's HR Department: the main difference is that we already have the local expertise and a network of providers," Olivier explains.
"Most companies are looking for cost- and time-saving as two of the main qualities of a Destination Service Provider, and we save both through our centralised method of service delivery."
The ERA Difference
A million miles away from the 'backpack' analogy, ERA gives expatriates everything they need to adjust to their new countries from their moment of arrival – and even before that, in the case of accompanied preview trips.
Present at the airport to greet each assignee (frequently accompanied by their families), ERA's fully-trained relocation consultant will facilitate the provision of suitable accommodation; familiarise assignees with the geography, institutions and amenities of their destination; and assist with administrative tasks such as registering children with schools or opening bank accounts.
Large corporates are increasingly relocating entire project teams (ranging from 10 to 70 individuals) simultaneously, and through ERA these companies have a single point of contact and the secure tracking benefits of ERA's in-house mobility software.
"Corporate assignments require significant investment for companies, and ironically one aspect of our service most appreciated by our clients is the sensitive manner in which we identify and address concerns would-be assignees have regarding their relocations," concludes Olivier.
"Even for top executives arriving in a completely different environment can pose significant challenges, and by focusing on the foundations for their happiness over a two to five year assignment ERA achieves a win-win scenario for all stakeholders."