Executive Relocations and CSE Mobilité joined forces in 2012 to create the European leader in national and international mobility management and support. With over 25 years' industry experience, our 330 global staff assist over 12 000 families a year when relocating on assignments.
With an extensive network presence in 45 countries, our multilingual team of trained mobility consultants in Africa all have personal expatriate experience and rich insights into how to make relocations seamless for assignees.
Executive Relocations endeavours to:
Enable companies to optimise costs related to relocation;
Alleviate the stress related to a transfer;
Facilitate assignees' adherence to relocation protocol;
Contribute to improving the success rate of transfers; and
Save time for employers and assignees.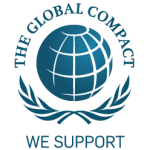 Executive Relocations in Africa proudly supports the United Nations' Global Compact program.
You can download the Global Compact brochure here →
South Africa: Click here to view our BBBEE Certificate